Featured Product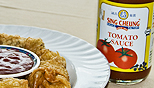 Welcome to Sing Cheung Co. Pvt. Ltd.
No other cuisine is perhaps more popular than the Chinese cuisine. But what makes Chinese food so special? Which secret ingredient tickles our taste buds? Yes, you've guessed it right—sauces. They give Chinese food its color, flavor, and taste.
Established in 1954, Sing Cheung is the oldest manufacturer of authentic Chinese sauces in India. Our flagship product, soy sauce is manufactured from hand-picked soybeans in our state-of-the-art manufacturing unit in Kolkata. We also manufacture tomato sauce, chilli sauce, coriander chilli sauce, garlic chilli and other sauces to cater to various needs of our customers.